I have have been busy  With family and home stuff, and still hard at the re-organixing of my storage of these uniforms, in our crawl space / basement...thats another story, but both sites the-military-mark.com and the-german-military-mark.com I have been working on and re-sorting out, re-writing in many cases, and editing again....I know my spelling sucks! Some times still adding pictures as I go too, sorry they seem very 'newbie' or unprofesinal look, just doing this myself, no schooling, I learn as I go, but I'm getting it. Hope you enjoy them at any rate, and eventully it will all come together, and I can get on with maybe selling them? Just explaning the situation of these sites, and get on with the historys being told threw my uniform collections.  Mark Stone.
Sorry I've been sidetracked, sorting and organizing all the uniforms in the crawl-space storrage, for days not, so have not been working on the 2 sites, and we have a lot ov US. Naval uniform at my friend place, were all still in lock down with the Covid-19 thing, but hope to adress that navy and Air sections later this summer if possible, those of you out there looking at the site, please stay safe and adhear to the precastions of mask wearing and gloves if need be- we have 5 people we've lost in the emedite area from this now, so I'm staying in my shop and in the basement for a while more, God Bless ya and stay safe.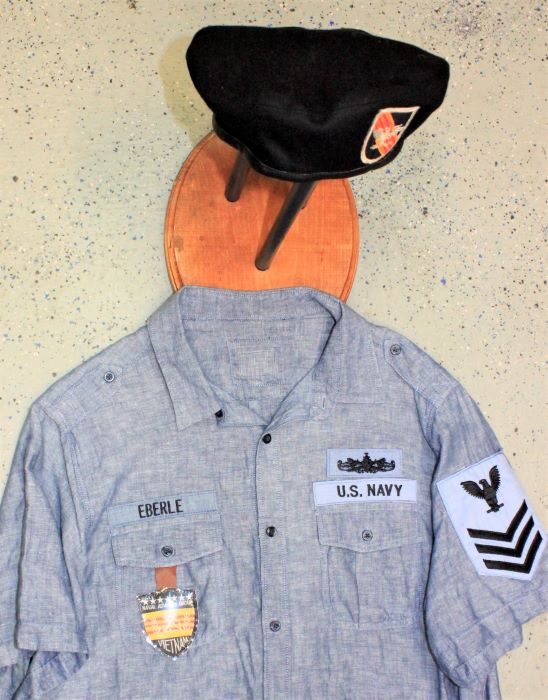 We have a couple 'Cav' guy's, A Crew Chief from  the 545th Matainance Detachment, I think he flew in the Wreck-that went an retreived downed aircraft in Vietnam, and the other is a Major, who was a flyer, but now with the Armored detachment in a recent Desert Camoflauge uniform.